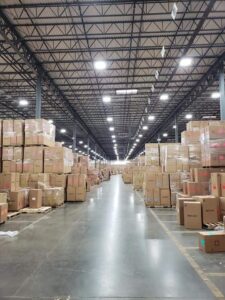 High-quality LED lighting in warehouses can do so much for your commercial space. Your lighting can affect your business's efficiency and employees' productivity. Continue reading to learn more about how LED lighting can benefit your commercial warehouse.
Make Your Warehouse More Energy-Efficient 
The most critical advantage LEDs offer is their lower energy consumption compared to older types of lighting. LEDs need only a fraction of the power used by traditional bulbs and can quickly deliver significant savings in utility costs. Another benefit of using LEDs over traditional lights is that LEDs generate less heat. This makes it easier to keep a large facility cool in the summer — yet another way LEDs can make a business more energy efficient.
Easy Maintenance 
The LED installation process is designed to be simple and fast. That means you'll get the benefits of the upgrade without the downtime. With LED warehouse lighting, maintenance is drastically reduced. Their typical life span can be as long as 100,000 hours. This means you won't spend as much time or money replacing bulbs. 
Increased Safety For Your Area
The safety benefits of LED are significant. As workers navigate the warehouse, tricky areas like aisles, staircases, catwalks, and high-traffic corners can be kept brightly lit to avoid collisions and aid navigation. LEDs are less likely to cause eyestrain, which can contribute to headaches and fatigue. Plus, working in a well-lit space makes employees feel more energized and satisfied with the environment.
ELEVATE YOUR LIGHTING WITH GREEN WAY LIGHTING
At Green Way Lighting, we genuinely value the importance of meeting the needs of our customers. Whether you are searching for lighting solutions for your commercial building or residential property, we have the options available to fit all your needs. Reach us on Facebook, Twitter, and LinkedIn. You can also contact us on our website!