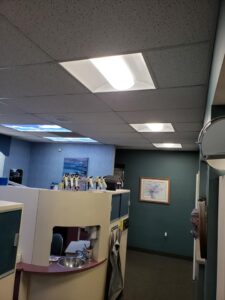 An office should be a productive environment where everyone works together to achieve a common goal. When the lighting in such areas is inadequate, it can negatively influence your business. Here are a few significant advantages of automatic lighting in office settings.
Automatic Lighting Helps Lower Electric Costs
One of the substantial and apparent advantages of automated lights in office workstations is the potential for utility savings. When lights are automated, they are programmed to turn on and off at specified times of the day. This implies that lights will only be left on overnight if the last person to leave the building remembers to turn them on. Also, using LED lighting can help you save a lot on monthly utility expenditures and streamline the specific periods when your site needs illumination.
You Can Easily Adjust Dimmers
Dimmers, in addition to automatic timers and occupancy sensors, are another type of automatic lighting with distinct advantages for offices. Because many offices utilize screens for presentations and general work duties, screen lights interfering with artificial light from fixtures is a significant challenge. With dimmers put on lights, many of which can be programmed to operate at specified times, you can ensure that the displays are the focus for the eyes while the dimmer light still provides adequate sight and avoid screen time in the dark, which can injure the eyes.
Consider Automatic Lighting When Reducing Your Carbon Imprint
Another significant advantage of automated lights is their low environmental effect. When lights are left on all night or are not needed, they deplete natural resources like electricity and reduce the life of the fixture and lamps. Installing timers to automate the lights so they only turn on when needed will significantly minimize your organization's environmental footprint.
ELEVATE YOUR LIGHTING WITH GREEN WAY LIGHTING
At Green Way Lighting, we genuinely value the importance of meeting the needs of our customers. Whether you are searching for lighting solutions for your commercial building or residential property, we have the options available to fit all your needs. Reach us on Facebook, Twitter, and LinkedIn. You can also contact us on our website!