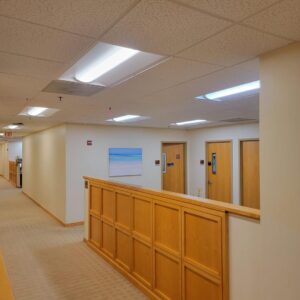 If you have been considering implementing LED lighting in your facility, it is the perfect time to familiarize yourself with the benefits and ease of an LED lighting retrofit. With improved lighting quality, increased safety, and significant cost savings, it's not a question of if but when you should retrofit your lighting design. Below are some practical advantages of an LED retrofit for your commercial property.
Improved Energy Efficiency For Your Space
LED lighting is a modern solution offering numerous advantages over traditional lighting. One of the most significant benefits of LEDs is their impressive energy efficiency. They consume far less power than conventional lights while providing superior illumination. LEDs are up to 50 percent more efficient than their older counterparts, making them an eco-friendly and cost-effective choice. With LED lighting, you can enjoy cleaner lighting without worrying about high energy bills.
An LED Retrofit Can Help Lower Energy Costs
Did you know that lighting accounts for a significant portion of your electricity bill? Upgrading your facility to LED lights is a wise investment to tackle this issue. Besides reducing your lighting costs, LED lights can also provide attractive incentives, rebates, and a quick ROI. So, it's worth considering retrofitting your lighting system to LEDs for long-term cost savings and energy efficiency.
Take Advantage Of Tax Incentives And Energy Rebates
LED lighting projects can qualify for rebates, tax incentives, and grants depending on the state in which your facility is located. For instance, in Maryland, businesses were eligible for up to 70 percent of the total project cost, and in 2021, they also received federal tax deductions of up to 60 cents per square foot.
Enhanced Lighting Quality For Your Facility
LED lighting is bright and crisp, which not only improves the lighting environment of your facility but can also improve the perimeter lighting of your building or parking lot, resulting in increased safety for pedestrians and drivers. In addition to increased security, studies indicate that better-quality LED lighting can also help increase efficiency and productivity and improve employee morale.
Lower Maintenance Costs With An LED Lighting Retrofit
LEDs are popular for lighting solutions due to their energy efficiency and long lifespan. However, maintaining these fixtures can be costly and time-consuming, especially in expansive facilities. With the help of Green Way Lighting, you can enjoy peace of mind knowing that your retrofit will help eliminate the need for ongoing maintenance costs. This enables you to reduce your operational expenses and minimizes any potential disruption to your business operations. Furthermore, you may not even need to make an upfront investment in many cases, making it a truly cost-effective solution.
ELEVATE YOUR LIGHTING WITH GREEN WAY LIGHTING
At Green Way Lighting, we genuinely value the importance of meeting the needs of our customers. Whether you are searching for lighting solutions for your commercial building or residential property, we have the options available to fit all your needs. Reach us on Facebook, Twitter, and LinkedIn. You can also contact us on our website!