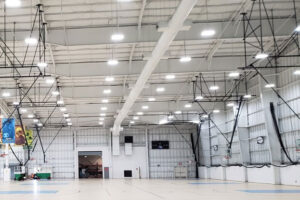 The role of lighting in schools is crucial in various aspects. It affects the student's ability to learn and see, and it consumes a significant amount of energy. Schools are evaluated based on academic performance and graduation rates, which can result in financial penalties or rewards. By installing a new lighting system, the money saved can be allocated towards programs that benefit students directly. The following are some advantages of upgrading your school's lighting system.
Better Light Quality & Output
Several students are already facing visual challenges such as difficulty focusing, tracking, perceiving images clearly, etc. Upgrading the lighting system is essential for all students to see every corner of the classroom and school premises. Moreover, using LED lights in the upgrade can mitigate the issues of glare and flicker. These issues not only affect the students negatively but teachers as well.
Improvements in Mood and Behavior
Properly using your lighting system can benefit students, including increased focus, better concentration and relaxation, and improved overall mood and behavior. One factor that can significantly impact student health is color temperature. Using cooler (or bluer) color temperatures (between 4100K-5000K) in the morning can help students wake up and become more alert, improving their mental cognition and ability to learn and comprehend the material. According to research, cool color temperatures can also improve behavior in students with hyperactivity or learning disabilities.
Save Money And The Environment
Upgrading lighting is a common suggestion for improving energy efficiency in facilities. School districts, for instance, spend a significant portion of their operational budget on energy costs, with lighting accounting for as much as half of that amount. Many schools in the U.S. still use outdated fluorescent or incandescent fixtures. They often spend more money on cooling to compensate for the heat generated by these fixtures than on the fixtures themselves. Upgrading to LED lighting could reduce the energy used for lighting by up to 70 percent and by 10-20 percent for cooling, resulting in significant energy cost savings.
LEDs are a cost-effective option for lighting upgrades due to their long lifespan of up to 100,000 hours (or up to 20 years), much longer than fluorescents' operational life of 10,000 hours. Additionally, LEDs are designed for durability and require minimal maintenance, making them a practical choice.
ELEVATE YOUR LIGHTING WITH GREEN WAY LIGHTING
At Green Way Lighting, we genuinely value the importance of meeting the needs of our customers. Whether you are searching for lighting solutions for your commercial building or residential property, we have the options available to fit all your needs. Reach us on Facebook, Twitter, and LinkedIn. You can also contact us on our website!