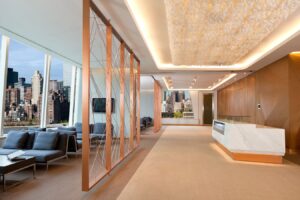 The lighting in your room should be considered from the beginning of the planning process. To ensure everyone is on the same page, work with a lighting designer and include them in discussions with your architect, electrician, and other specialists involved in the project. Here are some reasons why lighting is essential in your commercial building. 
Your Lighting Design Can Impact Your Space
With sufficient lighting, the space of a room will feel more significant and more manageable. A brighter and more impressive space will be shaped by effectively distributing light within an area. This is primarily due to eliminating shadows and dark/harsh lighting.
Professional lighting designers who employ "layered lighting" can make a space appear larger. Numerous light sources are used in this process to achieve the desired look and mood. This 'layered lighting' approach consists of ambient, task, and accent lighting, each with a specific function. 
Increased Productivity
This concept primarily applies to commercial businesses and offices. Employee productivity will decline under poor lighting and rise under bright lighting. The biological and physical impacts of illumination are what matter here. Lighting has a crucial effect on productivity when someone's attitude is positive.
Lighting Offers Enhanced Flexibility
Lighting design has many advantages, one of which is flexibility. Setting the ideal tone for your home is now simpler than ever, thanks to the always-improving developments in technology and lighting control. You may also dim lights, select from pre-set lighting settings, and do much more when working with a professional lighting design consultant with experience in smart lighting and controls.
The impact lighting controls may have on the guest experience has made them more and more popular in the hospitality sector. For restaurants, for instance, adjusting the lighting's mood and intensity throughout the day is ideal.
ELEVATE YOUR LIGHTING WITH GREEN WAY LIGHTING
At Green Way Lighting, we genuinely value the importance of meeting the needs of our customers. Whether you are searching for lighting solutions for your commercial building or residential property, we have the options available to fit all your needs. Reach us on Facebook, Twitter, and LinkedIn. You can also contact us on our website!